"Unagi (freshwater eel) dishes that will make you indulgent and nostalgic",

which is realized by the owner who grills unagi
one by one with special care.

Drawing the best out of the local products

Enjoy the fine balance of al dente noodles
and crispy tempura.

Enjoy the taste of nature

Shiki original take-outs that are carefully seasoned
and flavored using the local ingredients
※Please contact our staff for the current specials

Over 30 years of its history in Shuzenji, Shiki has never changed its way of cooking unagi. Unagi served at Shiki are domestically cultivated and carefully selected by the owner. Process of spiking unagi to the cutting board, filleting, skewering, steaming prior to grilling and grilling; the quicker the process goes, the better unagi tastes are extracted. Grilling technique handed down for decades is the key to make unagi crispy outside and juicy inside leaving its fragrant smell. The original sauce is the final touch to make the Shiki's unagi.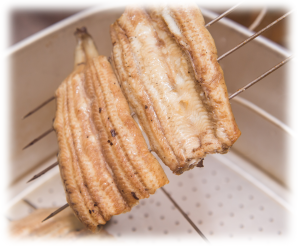 ABOUT "SHIKI"

Japanese Traditional Restaurant
Passion of the owner.
Variety of Menu
Group guests
NEWS
Japanese Traditional Restaurant "SHIKI". Information